Cuatrecasas named Spain M&A Legal Adviser of the Year for second consecutive year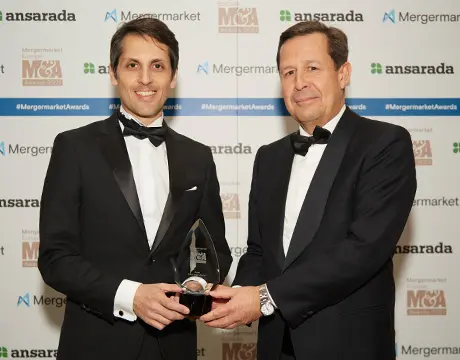 For the second consecutive year, Cuatrecasas has been named Mergermarket's Spain M&A Legal Adviser of the Year, a prestigious award that reflects the work of law firms in the major M&A transactions carried out in Spain during the year.
The winners of the Mergermarket Europe M&A Awards 2021 were announced at a gala dinner held at the Landmark Hotel in London, on March 31. For the first time since 2019, the award ceremony was held in situ in London.
Cuatrecasas partners Pere Kirchner and Marco Antonio Sanz represented the firm at the event, which awards the most outstanding firms in finance and legal M&A matters based on the value and volume of transactions carried out in 2021 and the innovative solutions offered for complex cases.
The winners are decided in a rigorous selection process that analyzes the different Mergermarket league tables ranking the leading law firms in the market. The expert panel's verdict in this edition reaffirms the decision taken at the 2020 awards ceremony, and this award is yet another acknowledgment of the excellent work of Cuatrecasas in M&A in Spain.